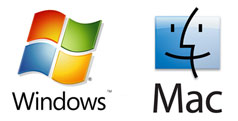 iMindMap can be used on Windows and Mac Operating Systems*.
For our Apple fans we've worked hard to give you a native looking interface - so you can enjoy an intuitive experience in a workspace that feels familiar to you.
For the PC devotees, you can explore our native Windows interface – using the Windows Ribbon most of you will use in your Microsoft products. Whatever your preference, we try to make you feel at home.
*Windows XP SP3 or higher or Mac 10.5 (Leopard) or higher are required.