Our complete package for innovation
to stand out from the crowd
For Mac & Windows
Our unbeatable iMindMap Ultimate Mind Mapping software comes with the full iMindMap feature set. Explore your ideas in stunning 3D environments, create powerful presentations, project plans, budgets or strategies; perform any task with creativity and without breaking a sweat.
With every feature designed to foster innovation and inspire your thinking, you can conquer complex tasks with flair and originality from the boardroom to the lecture theatre.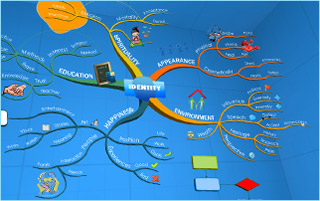 3D View
Watch your ideas come to life in awesome 3D when you create your maps in iMindMap's 3D View. With 3D images and background environments, you can glide around your map from a multitude of angles.
Add a little drama to your Mind Mapping and try it out for a more interactive presentation experience. We guarantee it'll be nothing like your audience has ever seen.>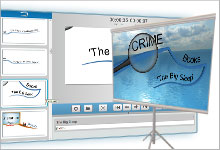 Presentation Builder & View
Plan, create and deliver stand out presentations using iMindMap's intuitive builder. Our slide builder allows you to choreograph a memorable path through your presentation with a visual feast of rotating transitions, smooth animation and captivating 3D.
We've got your back during the presentation as well, with your own Presenter Screen to view your notes, timers and control any links to files, videos or websites. Plus, you can export your presentations as videos or upload them straight to YouTube for easy sharing!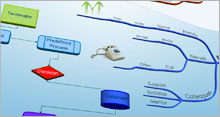 Create Flowcharts
Incorporate processes into your maps with Flowcharts. Switch between radiant Mind Mapping and sequential flowcharting to capture your ideas in the most effective way.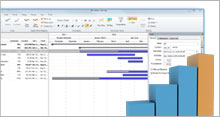 Manage Your Projects
Create task completions and milestones, view your maps as Gantt Charts or Task Tables and integrate with Outlook® for total control and advanced task management.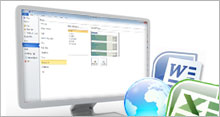 Office Integration
Working in harmony with your most-used desktop tools, Ultimate can effortlessly turn your maps into clean text documents, spreadsheets and webpages.
Click to reveal more features

Free Trial
Download

"Just updated my business plan using iMindMap - intuitive, fast, and efficient."


"iMindMap has a seriously potent and effective presentation mode that will enable you to create stunning visual displays to accompany your talk."


"It is a great tool for generating solutions for clients. I love it."