3D View offers a completely new way to capture and present your ideas. The world's first 3D Mind Map view takes your Mind Map and turns it into a 3 dimensional object, allowing you to glide around it from different angles, zoom in on different areas and turn Mind Mapping into a whole new experience.
You have watched 3D films, you've perhaps seen 3D TV, now present in 3D – the ultimate of cool. Impress and grip your audience with a totally fresh way of presenting that is fun to use and mesmerising to watch.
Get interactive and take 3D View into the meeting room whilst you present ideas and capture the thoughts of your colleagues. With drawing functionality, you can add branches and text whilst seeing your thoughts in 3D. Perfect for brainstorming or planning sessions with an edge.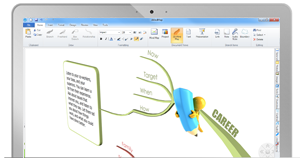 Getting stuck for ideas? Take flight with 3D View to see your Map with a totally fresh perspective. The easy to use navigation allows you to glide around your Map from a multitude of angles, zooming in on different areas and exploring the bigger picture in a whole new way.
Try 3D View with MultiMaps and see how your Maps relate and connect in a never-seen-before perspective. With multiple Mind Maps on your workspace canvas, you can use Relationships to clearly visualise relationships between different ideas and concepts. Using hotspots, iMindMap will fly you direct to the linked Map with a simple click.
Take your audiences on a multi-dimensional Mind Mapping journey, capturing their attention, ensuring their focus and guaranteeing they remember your message.

Trial for FREE
Download