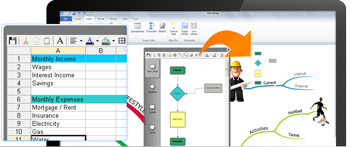 iMindMap gives you new levels of control over the kind of information you want to capture. You can create spreadsheets and flowcharts within iMindMap that can be displayed directly on your workspace, alongside your Mind Maps. Perfect for backing up your points and illustrating your ideas. iMindMap is one tool for all tasks, so you can save time jumping back and forth between programs
Clicking on the Spreadsheet button will bring up the Smart Cell editor, allowing you to create your own spreadsheet or chart and attach it to any branch. Draw up budgets, reports, or feedback results and statistics, all within iMindMap.
If you want to demonstrate a process or explain a new system, try out the Flowchart option. A practical step-by-step tool, incorporating standard flowchart symbols so you can quickly and easily lay out a sequence.

Trial for FREE
Download