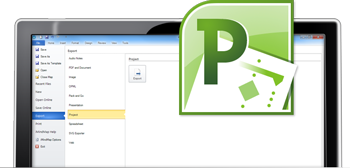 If you use Microsoft Project on a regular basis to handle big projects and manage complex tasks – you should really try taking advantage of iMindMap's Export to Project option.
Mind Map everything that needs doing for your project to get done – starting with the biggest areas and branching all the way down to the minutest tasks. This will allow you see the whole picture in one Mind Map, so nothing gets missed – it only takes one loose thread for the whole thing to unravel.
You can use the Project View to create and edit task completions and milestones, and when you're confident you have it covered, use the simple Export to Project option to send all of the data into Microsoft Project. Ideal if your organisation or team uses Microsoft Project but you want to start of the planning process using something a little more creative and less linear.