The ThinkBuzan Cloud (beta)* frees your maps from the confines of your desk. Simply save your Mind Maps in the secure ThinkBuzan Cloud and you will be able to access them from iMindMap desktop or iMindMap Online on any other computer. Coming Soon: Sync maps to ThinkBuzan Cloud on iMindMap iPad and mobile.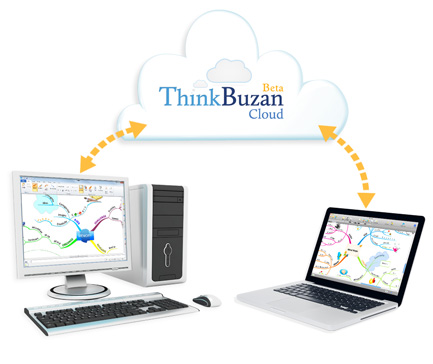 Once safely tucked in the ThinkBuzan Cloud your maps will be automatically synced whenever you work on them. Whether you are using iMindMap at home, at work, or at a friend's house, you'll have access to the most up-to-date versions of your work. The ThinkBuzan Cloud provides the perfect space for you to view and manage your maps, sorting them into folders and staying on top of things.
All you need is to log into iMindMap with your ThinkBuzan account username and password, and voila! All of your synced maps and folders are at your fingertips.
Currently available in beta state, ThinkBuzan Cloud is available to iMindMap Home & Student and Ultimate users as a trial, for a limited time only. Whilst in beta state, you can freely roam the Cloud syncing to your heart's content!
Plus, use ThinkBuzan Cloud with iMindMap Online to access, sync and store your maps from within our web-based editor.
Working seamlessly with iMindMap, the ThinkBuzan Cloud means you can relax safe in the knowledge that your maps are up-to-date, backed up, secure and always within reach.
*ThinkBuzan Cloud is currently in beta testing and is available as a free trial for all of our iMindMap Home & Student and Ultimate users. For a limited time only, whilst in beta state, users can freely access and sync to the Cloud.

Trial for FREE
Download