Learn the Secrets of the Memory Master
Learn from the world's greatest memory master, and realise the true power of your mind.
Why?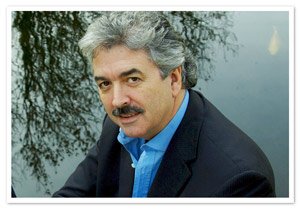 Dominic O'Brien, 8 times World Memory Champion, will give you the simple and exclusive techniques to unlock the potential of your powerful memory. It is scientific fact that memory is a learnt skill, so the good news is that everyone can improve memory capacity once they know how. Learn to memorise lists and numbers with ease, and then apply these techniques to improve your daily life.
How?
Get direct tuition from Dominic O'Brien, the memory marvel who has helped thousands discover their greatest asset - their minds. Dominic is an expert in staying mentally fit and alert, no matter what your age. As Dominic freely admits, until he discovered the simple techniques to boosting memory, his intellectual performance was average. Now this down-to-earth mentor will show you how to complete your own amazing memory transformation.
Discover how to harness the power of your memory with ease, and then how you can use your new memory skills to aid you in recalling presentations, studying, remembering names and faces, birthdays and appointments, memorising lists, key information for interviews and more.
Dominic's performance serves as an inspiration to those people who believe they have a bad memory. Age, dyslexia, education are not barriers to improving your ability to learn, and as Dominic says, if he can do it, so can you...one of the greatest minds of all time."
Michael Tipper, Professional Speaker and Expert on Mental Literacy
Course Benefits
Improve your memory and keep nurturing this important function.
Learn proven techniques, grounded in hundreds of years of research, from the expert in memory performance.
Memorise lists, numbers and items of data and apply this skill to improve your life.
Enhance your memory capabilities and remain mentally alert and fit, whatever your age.
Take preventative measures against forgetting vital information.
Apply your memory skills to succeed in exams, in interviews, meetings or social settings.
The training produced instant results for my son...nothing short of miraculous. He passed his exams, and he came top of the whole year in Maths!"
J.D, Parent, West Sussex
Outcome
Following this course, you will be able to use your memory in a targeted way to improve your recall of any data you are given - a great asset in the age of information overload. Guided by Dominic O'Brien, the world's leading name in memory, you will hone your memory skills and apply these to remembering lists, names and faces, facts and figures, phone numbers and more.
The dividends from this course are guaranteed to improve every aspect of your life: from academic performance, to professional productivity, to social confidence.
Don't neglect your most powerful asset - improve your memory and start achieving more today!
If you have any questions regarding the One-Day Memory Workshop, please contact our ThinkBuzan Training Team: training@thinkbuzan.com. Alternatively you can call us on our UK telephone number: +44 (0)20 71 177 173, or on our USA telephone number: 1-800-961-4582.
Learn the Secrets of the Memory Master
Next date TBC - please contact training@thinkbuzan.com for more information
GBP£295.00 (+ tax)
Have a Question?
1-800-961-4582
+44 (0) 20 71 177 173

- or -