Tony Buzan
Founder and President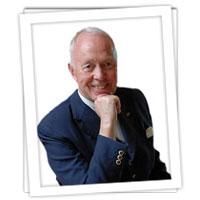 Tony Buzan is the inventor of the now world-renowned Mind Map, and is well-known as an educational consultant, speaker and prolific author. His invention of Mind Mapping in the late 1960s was born out of frustration with traditional note taking revision techniques. He has since developed the Mind Map technique through books, TV appearances and his work as a highly-regarded speaker. Through iMindMap, Tony and Chris have finally established a synthesis between interactive, intelligent software and the creative freedom of a sketched Mind Map.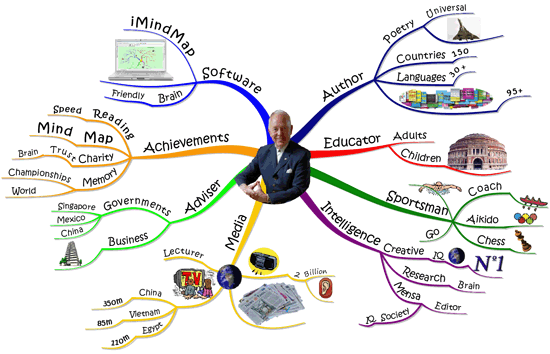 Tony's accomplishments are vast and numerous:
The world's leading author on the brain and learning (over 100 authored and co-authored books to date).
The world's top lecturer on the brain and learning. Tony Buzan has lectured to audiences ranging from five-year-old children to first-class Oxbridge graduates, to the world's top business directors, and to the leading organisations and governments.
Named in 1994 by Forbes magazine as one of five top international lecturers along with Mikhail Gorbachev, Henry Kissinger and Margaret Thatcher.
Recognised with a Lifetime Achievement Award from the prestigious American Creativity Association (ACA) .
Founder of the World Memory Championships.
Founder of the World Speed Reading Championships.
Buzan's books and other products have achieved massive success in more than 150 countries and 30 languages.
Inventor of Mind Maps, the thinking tool described as 'the Swiss army knife of the brain', now used by over 250 million people worldwide.
Previous editor of the international journal of MENSA.
International business consultant to major multinationals including: BP, Barclays International, General Motors, Walt Disney, Oracle, Microsoft, HSBC, British Telecom, IBM, British Airways.
Consultant and adviser to governments and government organisations including: England, Singapore, Mexico, Australia, the Gulf States and Liechtenstein.
A global media personality, having appeared on over 100 hours of national and global television, and over 1000 hours of national and international radio. He has been seen and heard by an estimated three billion-plus people!
Waterstones book shops and the Express Newspaper group have recently selected one of Tony's books, 'Use Your Head', as one of the 1000 greatest books of the past millennium. They are simultaneously recommending it as an essential part of the 1000-book library for the current millennium - the Millennium of the Mind.
Buzan shows corporate executives how to hotwire their creative energies."
Forbes Magazine
Tony Buzan is the Neil Armstrong of the mind! His Mind Map Book is the next giant leap for mankind."
Michael Gelb, author of Thinking for a Change and Present Yourself
I have used Tony Buzan's techniques for the past ten years and find them enormously helpful in writing my books and as an aid to the creative process."
Deepak Chopra, Bestselling Author and Philosopher
Tony Buzan has done it again... make your mind work better."
Ken Blanchard, author of the multimillion bestselling book The One Minute Manager
Mind Maps are indispensible in the business world."
Nicky Oppenheimer, Chairman of DeBeers
Tony Buzan was a mesmerizing speaker...in a few hours he communicated to a business audience the practical portion of what I had spent four years studying."
Stephen C Lundin, author of the five-million-copy bestselling FISH!
The use of Mind Mapping is an integral part of my Quality Improvement Project at Boeing. This has provided savings of over $10 million for my organisation."
Mike Stanley, Boeing Corporation
Tony didn't invent the brain – he did invent the instructions."
John Husbands, Institute of Management
Tony Buzan will do for the brain what Stephen Hawking did for the universe...there can be no clearer or more effective mental tool than Tony Buzan's Mind Maps."
Raymond Keene, The Times
Tony Buzan is a man on an impressive mission - to unlock the power of our brains and show us how to tap and use our creative genius."
His Excellency Dr Abdul Hussein Ali Mirza, Minister for Oil & Gas, Bahrain
Want to know what makes Tony Buzan tick? Find Out More